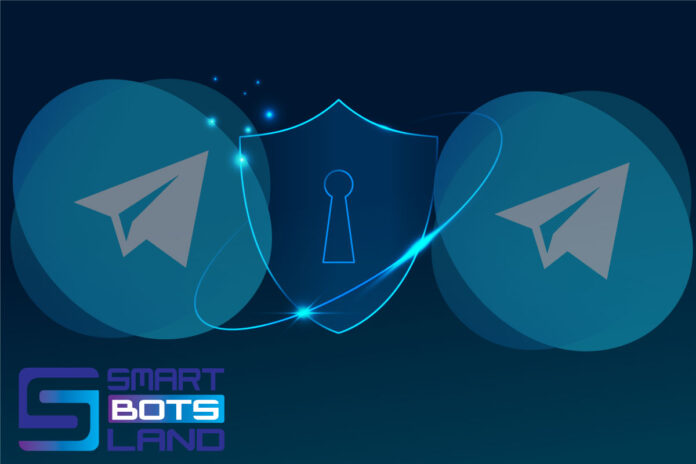 Telegram Privacy and Security: Telegram is well-known for its privacy and security and surly, privacy and security section from Telegram settings must have had amazing features. In this article, we are going to show you different parts of this section.
First step: open "Settings" and tap on "Privacy and security".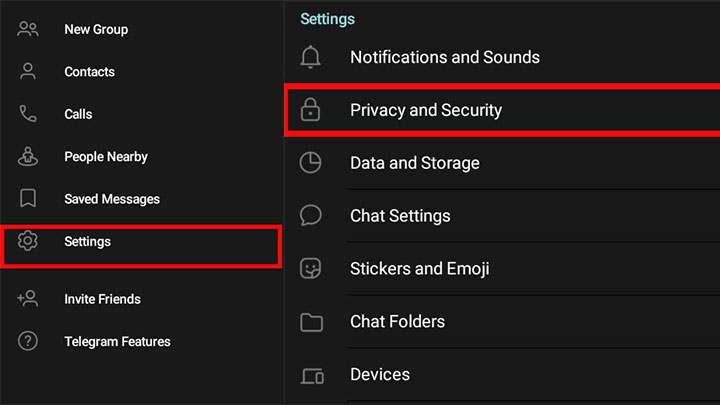 Privacy
The first section you see when you open "Privacy and security", is "Privacy". This part includes some other subsets:
Blocked Users
Phone Number
Last Seen & Online
Profile Photos & Videos
Forward Messages
Calls
Group & Channels
Blocked Users
As its name shows, this section belongs to the chats that you have blocked. Using this section, you can see the chats that you have blocked and if you intend to, you would be able to unblock them. Also, you can directly block any user by tapping on "Block user".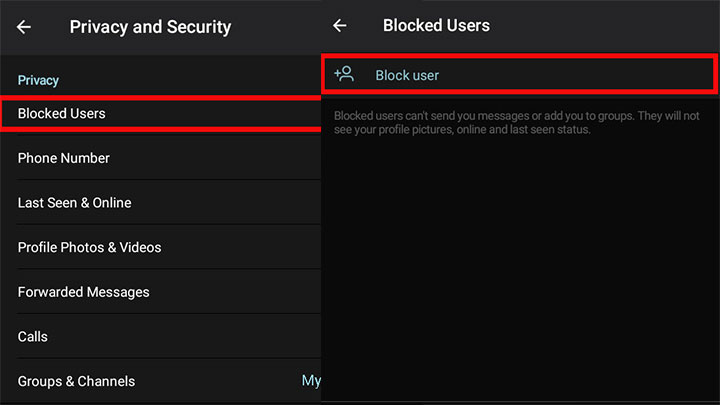 Phone Number
This part helps you to manage who you would like to access your phone number. The first section which is embedded for this part, is "Who can see my phone number?". And there are three options to choose:
Everybody
My Contacts
Nobody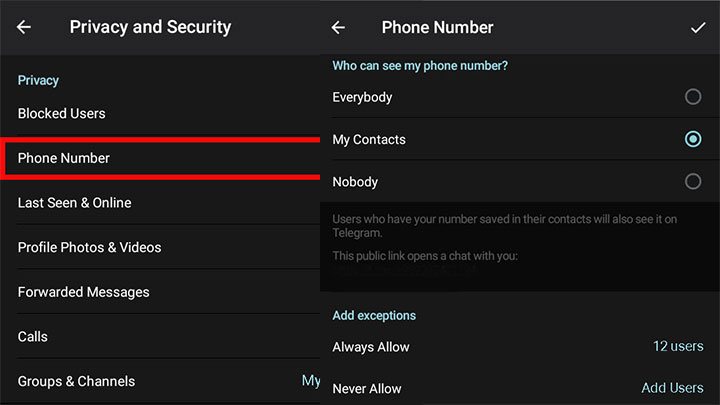 And it will be yours to choose one. You can also add exceptions if you see it proper.
Last Seen & Online
This part is much like the previous one and you need to choose one of each out of your desire to answer "Who can see my last seen time?"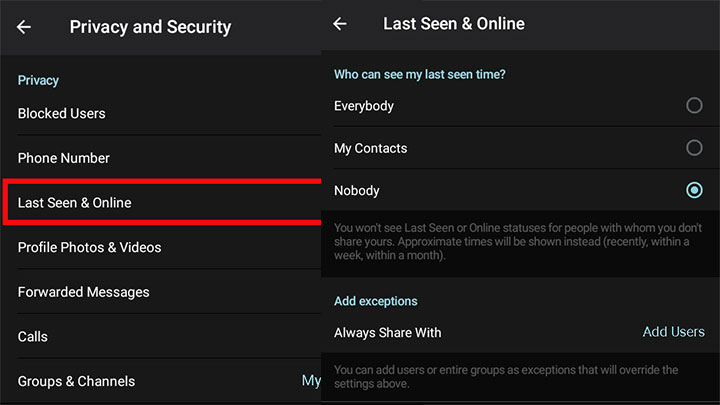 Profile Photos & Videos
There is not much to tell. It goes the way like those previous sections.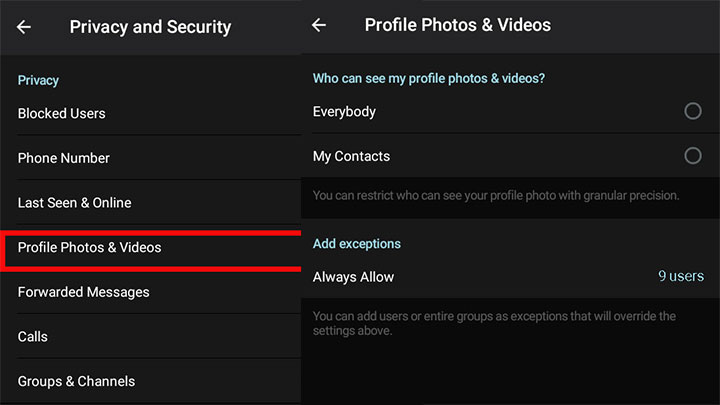 Forward Messages
When someone forwards your messages, there can be a link to your account and anyone who sees the forwarded messages, could be guided to you. In answer to "Who can add a link to my account when forwarding my messages?" you can specify who and add exceptions if you would like to.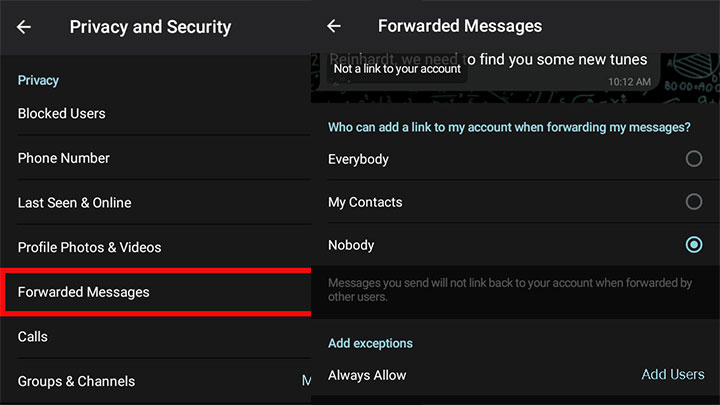 Calls
Here on this part of Telegram Privacy and Security, you can manage who can call you out of three options: Everybody, My Contacts and Nobody. "Adding exceptions" is available here too.
There is another section in this part: "Peer-to-Peer". These kinds of calls are made direct connection between two people. In fact, it does not route over a central server. Peer-to-Peer calls are used to improve audio and video quality because the connection does not travel as far as it would when rounded a central server.
Keep it short, you can manage to use Peer-to-Peer with whom and add exceptions as well.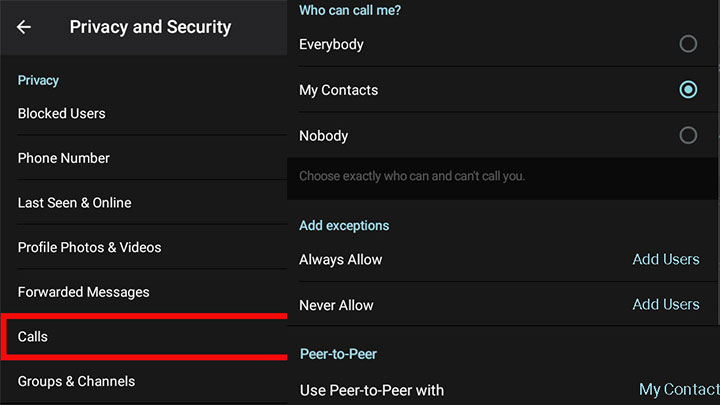 Groups & Channels
Using this one on Telegram privacy and security, you can choose who can add you to groups and channels and again, you access the ability to add exceptions.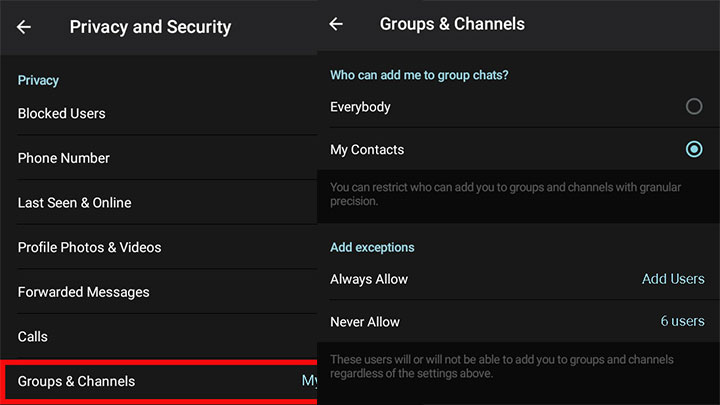 Security
Security is the second part you see on Telegram privacy and security and it includes three segments:
Passcode Lock
Two-Step Verification
Devices
Passcode Lock
Here you can set a passcode lock. After you set it, a lock icon will appear above your chat list and by tapping on it, you can lock your Telegram App.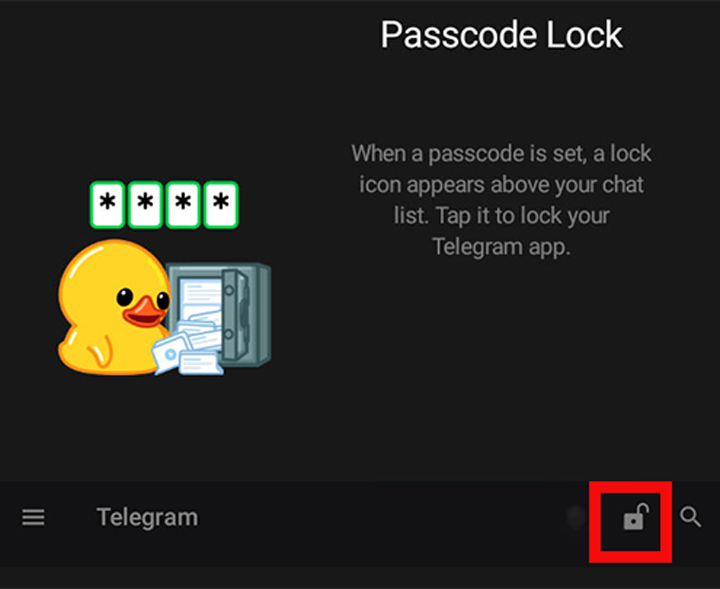 Two-Step Verification
You can enable this part creation an additional password and your account will be protected by an additional password.
Devices
In this segment, you can see all devices that are your account is logged in with and also, terminate each session you like. There is another part here where you can link Telegram Desktop or Telegram Web by scanning a QR code. The final segment of Devices section, is to automatically terminate old sessions and you can specify session self-destruct.
Delete my account
It is the third section of "Privacy and Security" part. You can determine Self-Destruct if you were inactive for a specific period of time.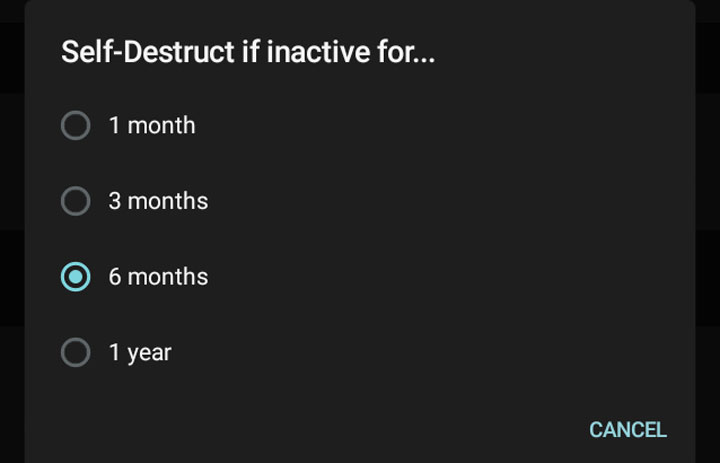 Contacts
Three sections are embedded here: Delete Synced Contacts, Sync Contacts and Suggest Frequent Contacts.
Delete Synced Contacts: using this you can delete your contacts from telegram servers.
Sync Contacts: If this segment is enabled, your current phone book will be re-synced.
Suggest Frequent Contacts: This one will delete all data about the people you message frequently as well as the inline bots you are likely to use.
We used to discuss section "Notification and Sounds" section before. If you want to more about that section, click here.
You think which part is the most interesting one? share us your thoughts!