As you know, Telegram bots have become more and more impressive. Telegram bots have awesome features, due to their effective support. You may already have a telegram group or you need to have one. It is obvious that managing a large group takes a lot of time and it is difficult. Therefore, we have created a Telegram bot that helps you to manage your group. We have written a short article about managing bot before but this article has more details.
If you would like to have your own Telegram group manager, do not miss the 7-day free trial.
After creating your bot with @BotFather and registering on SmartBotsLand panel, log in to the smartbotsland panel. On the left side of the page, click on the group and channel. Tap Group Management. A page will be open to you, so you can see the lists of groups that your bot is a member of. Select the group you want to manage by the bot and click on the setting button.
Tip: Management bot can only manage groups that are the admin of that group.
Group lock
The first section you can see is Group lock. By activating this option, users cannot send anything to the group.

Advertisement lock
You might be aware of the hardship of preventing advertisements in your group, so Smartbotsland managing bots has a solution. You can lock the links, messages with @ (people use them to tag someone) and also this bot can lock the messages with #.

Media lock
You may be annoyed when your users send lots of photos, videos, stickers and more, so; managing button can lock all media according to your needs such as GIF, video, files, stickers and more.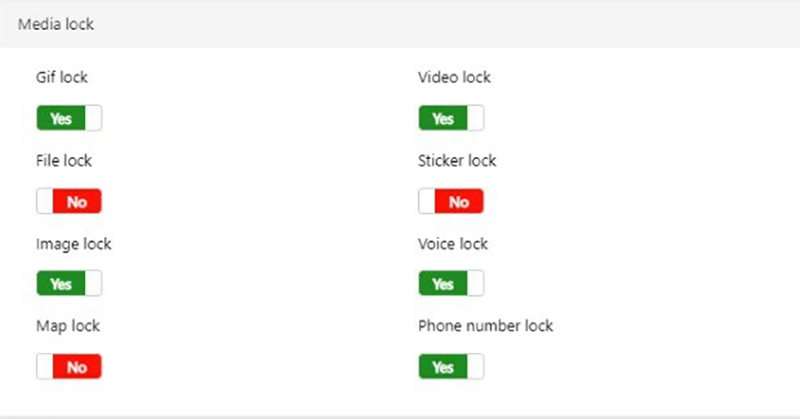 Chat lock
Allow Bot Add to group: If you allow the other bots to add to your groups, they may disrupt your group. You as the admin of group, You can block other bots from entering your group.
Reply lock: Sometimes it's irritating that the users reply messages in the group, so you can prevent your users from that. managing bot can do it by activating this option.
word lock: There maybe some words that you wouldn't like your users use them in your group. For example they are spam or inappropriate. Write the words in words box.

Channel forward filter:

As same as word lock, there maybe some channels that you wouldn't like your users forward the message from them, By choosing this option, you do not allow your users to send anything from that channel.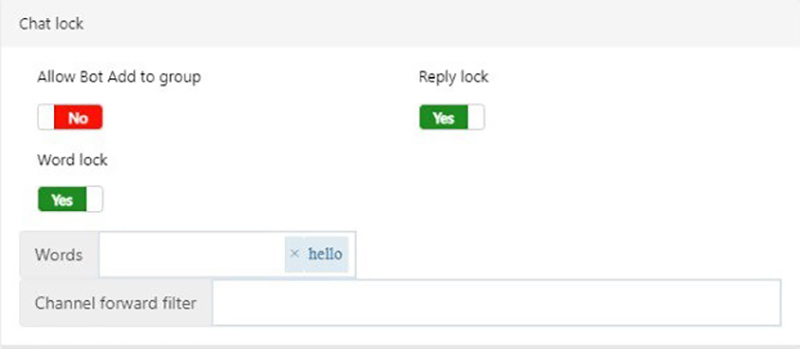 Welcome to the setting for new users
Delete join or leave user event from the group: When users join or leave the group, a

message is sent

, and you can lock this message so that it will no longer be displayed in your group.

Automatically delete

welcome

message:

As you know, when a user joins the group, a

welcome

message is sent

to the group. Sometimes it is disturbing. So you can lock this message.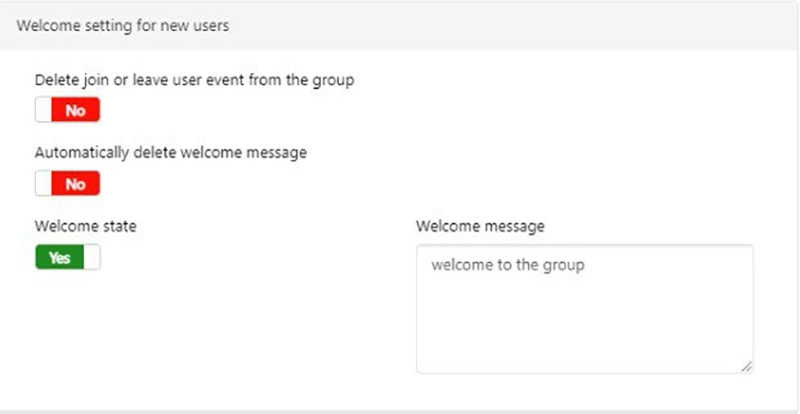 Group activity time settings
Group activity time: occasionally we need to

lock

our group for a specific time. So you can adjust this setting and

lock

it. For example, you can

lock

your group from 4 P.M until 10 p.m. If the time you want to

set

is on two different days, you must

set

two time frames.

Activity out of time warning:

You can

set

a message and when the

group is locked

,

it will be sent

to your users.

Activity out of time sticker:

A custom

sticker can be used

instead of an activity out of time message.

Limitation settings for offending users
Naturally, there are some users that do not obey the rules. Perhaps, they send inappropriate words or something against your rules. So you can restrict them to a specific time or to always.
Max number of violations for temporary restriction:

So you as an

admin

of group can set this option. It should be between 1 and 10 characters. If the users do not obey the rules more than a specific time, managing bot sends a warning message or warning sticker and more than that, it restricts them for a few days.

Max number of violations for permanent restriction:

If users make mistakes more than the number of times you specify, the computer will permanently limit them and you have two options: removing users or restricting users forever. So he or she cannot send messages any longer.

TIP: Admin can clear users' violations.
Member settings
In this section, you can determine whether your users can send messages, files, and links after joining the group.
Finally, press the "SAVE" button to save the settings you have made for your Telegram group management bot.
Also, in the users section, you can see the list of all users, the number of violations, and the number of inviters.

Please let me know if you have any questions
Get in touch:@SmartBotsLandSupport