Telegram bots are one of the most attractive and useful features of Telegram. Smartbotsland team has created some powerful bots and also a web panel that let you to create your own bot. This panel gives you some required buttons like: Basic Buttons, Form Maker Button, Poll Button, Individual Button and SIGN UP Button.
As you know, SIGN UP Button is one of the most important buttons. For the reason that the first thing your users need to do, is register with your bot. They can do this with SIGN UP Button. If you want to know how to create your own button, follow this step.
After creating your bot with @BotFather and registering on SmartBotsLand panel, log in to smartsbotland panel. On left bar, click on "Bot Users". A list will be open to you. The first option is All Users.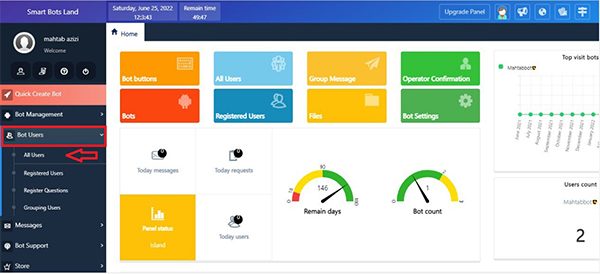 All users: By clicking on this option, you can see, all those who have entered your bot and has clicked on /Start.
Registered Users: With this button, you can see who has registered in your Telegram bot.
Tip: If you want your users to register in your bot, you should activate sign up button. For activating this button, click on Bot buttons on the home page. Then select the Edit Button in front of the Start button. Tap Select default submenus at the bottom of page, then click on Bot Sign Up. When it is blue, it is active. Now our sign up button is active.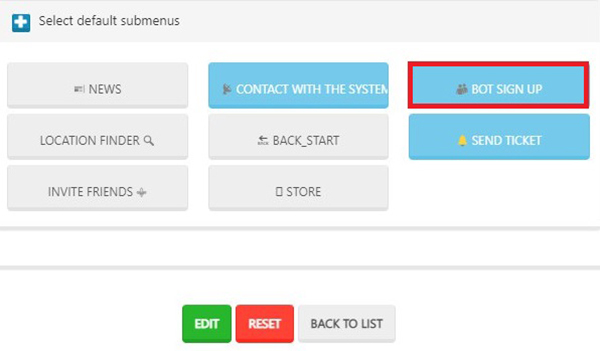 Although the Bot Sign Up is active, your users can't register in your bot, as a result, you haven't written Sign Up button in your panel. For doing this, let's visit the panel. Click on Bot Users at the left bar; then click on Register Questions. In this section, you can create all your questions.
Title: You have to choose a title according to your needs. For example: full name, phone number, national code and etc.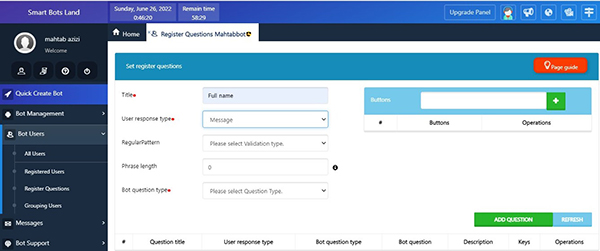 User response type

: Here we define how should the users answer our questions. There are some options like: massage, photo, audio and etc.
Tip: If you select message, your users only can reply via message and they can't answer in any other way. If you select "all", They can answer in any way.

Bot question type:

It

 is the same as user response type but the difference is, You specify the type of bot question not user.

Validation type

: You specify the type of answering this question: As you see, it can be number, English character and etc.

Phrase length

: It's clear that you should specify the length of response. Which means that you specify how many characters, the users should use to answer the questions.
Question text: In this card, you should write your questions such as write your name, write your phone number, Select your gender and etc. You can create multiple buttons and your users can select one of these buttons to answer. For answering the question of gender, they can choose woman or man, for example.
Let's see the sign up button in Telegram.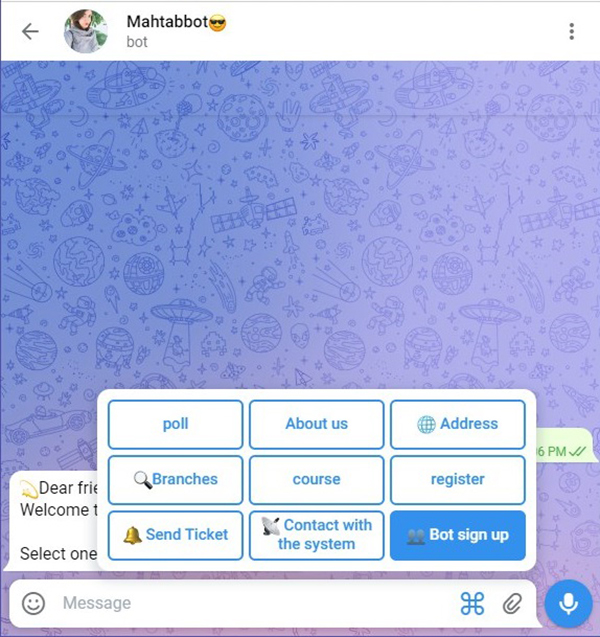 If you would like to have your own bot, do not miss 7-day free trial.