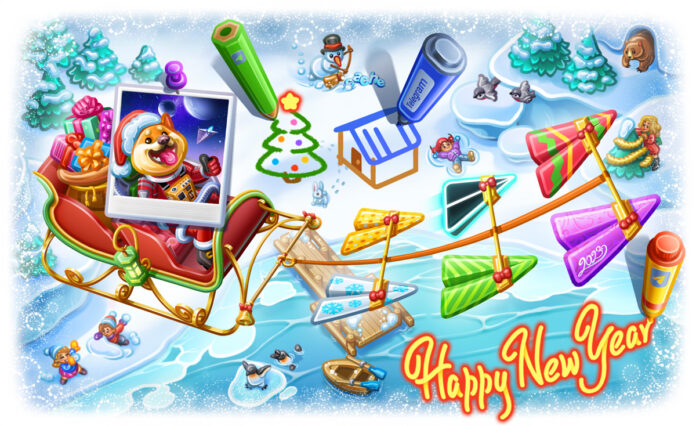 Telegram, the king of features, has released a new upgrade. Numerous new features have been add will be thoroughly explained in this essay.
Hidden Media
One of the most widely used messaging apps is Telegram, despite its youth. This comes as no surprise given the app's extensive array of useful and intriguing features, including spoiler tags. Users can prevent spoilers for TV series, movies, games, etc. by using these tags.
Spoiler formatting is supported by Telegram to hide any text in messages. Now, you can also add a shimmering overlay to images and videos to blur the image.
Zero Storage Usage
On your device, Telegram may take up almost little space. At any time, you can delete files and media from your phone's storage and redownload them from your Telegram cloud. Users have the option to specify a maximum cache size or have useless items automatically deleted after a certain amount of time.
With this version, you can add unique auto-remove settings with exceptions for particular chats for cached media from Private Chats, Groups, and Channels.
The new pie charts make it easier to see what's using up space, and specific tabs for Media, Files, and Music let you quickly delete the bulkiest stuff.
New Drawing and Text Tools
By this update you have more fascinating tools for drawing further creative. The already strong media editor in Telegram has undergone a complete overhaul. Drawing tools automatically smooth your lines and modify line width dynamically dependent on drawing speed.
There are 5 high-precision ways to choose colors, including the Eyedropper tool, and a new blur tool to cover up photobombers or sensitive data.
You may now alter the size, font, and background of text that you add to images or videos. Even users who do not subscribe to Telegram Premium are able to add unique animated emoji to text on photos.
Images for Your Contacts' Profiles
Have you ever considered changing your friend's Telegram profile and offering her a lovely one?
Telegram's most recent update includes this gorgeous function! You can select a photo for your contacts while editing them; only you will be able to see it on their profile. If your contact has a decent profile photo, you might propose it to them. To add it to their profile, they only need to use two taps.
Public Profile Pictures
You can set a public image for everyone else if you restrict who can see your profile photos. Additionally, you may now obtain the highest level of profile picture privacy by setting visibility to "Nobody" and adding specific users or groups as exceptions.
Group Members' Cover Up
Large groups can be kept spam-free with the use of tools like the strong anti-spam option, but some groups may also desire to shield their members from unwelcome personal messages.
Group administrators who have more than 100 members can now opt to hide the member list. In this manner, if users don't message the group, only the admins will be aware of their presence.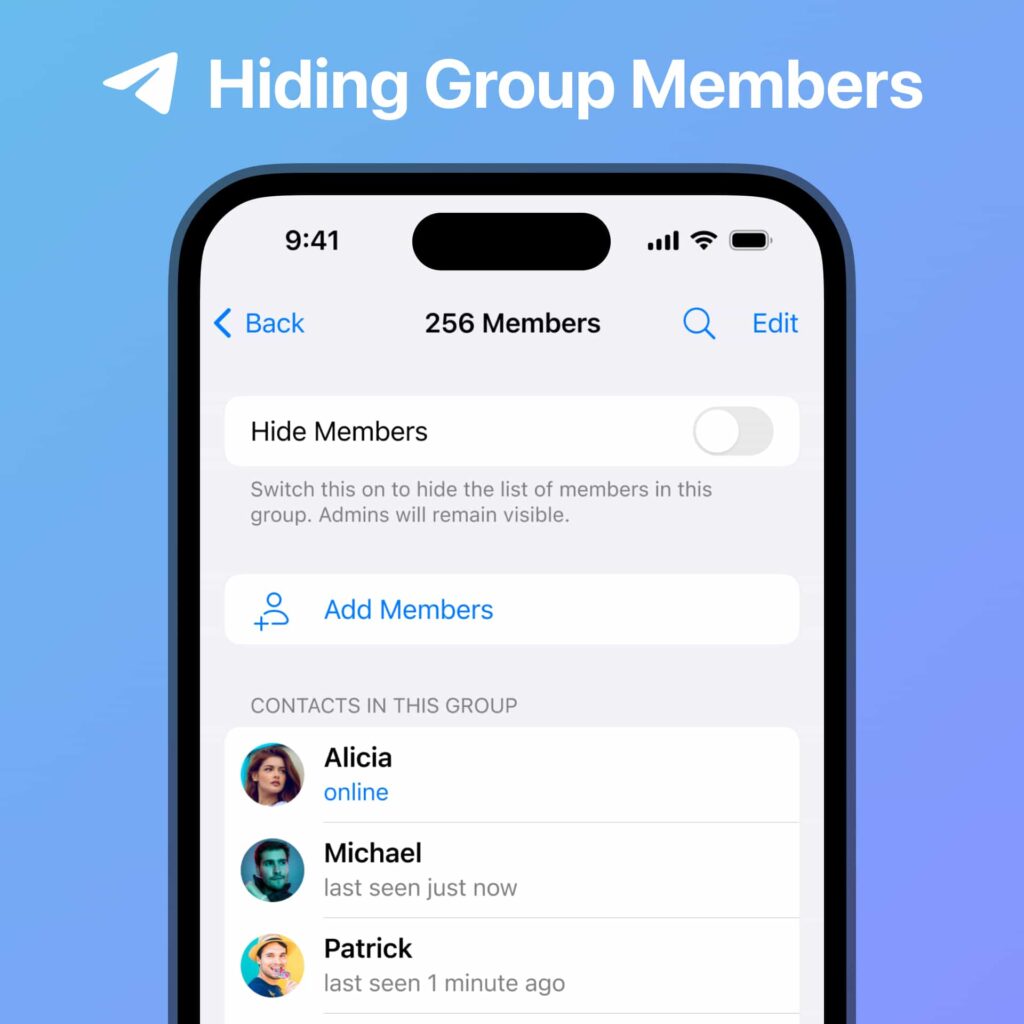 New Android Progress Animations
Jumping to other sites within the app as well as to a distant reply in a hectic chat now features smooth new animations.
New Animated Emoji
Telegram artists are giving 10 new packs of creative animated emoji to premium subscribers as a gift.
More Interactive Emoji
 Telegram's selection of interactive emoji is constantly growing. Send a single in any 1-on-1 chat, then tap on it to enjoy full-screen effects in coordination with your chat buddy.
Topics for Groups of Any Size
No of the size of the group, topics are now available, allowing everyone a new method to structure conversation.
Reference: https://telegram.org/blog/hidden-media-zero-storage-profile-pics