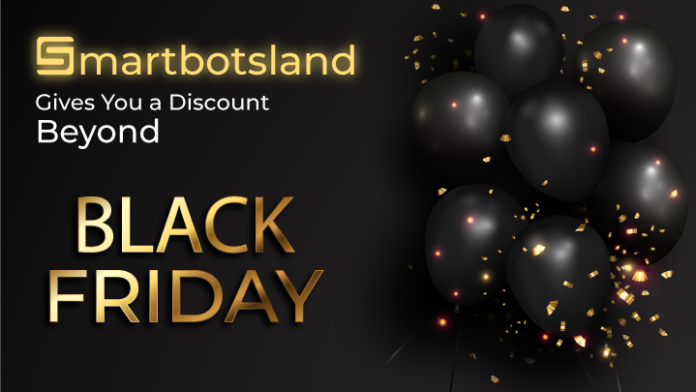 Black Friday is one of the most important shopping days worldwide. Black Friday started in the US for the first time, and this event is growing in popularity year over year. Black Friday always falls on the Friday immediately after Thanksgiving. In 2021, Black Friday will be held on the 26th of November.
Now the SmartBotsLand team, on the occasion of Black Friday, gives amazing discounts on the versions of Telegram bot maker panel. And whether you are a new customer or an old customer, you can take advantage of this great opportunity, and upgrade your Telegram bot maker panel or extend it.
If you want to get discount codes and be informed of the latest news, please join the SmartBotsLand News Telegram channel now.
We will inform you of all the good things about the Telegram bot maker panel and good news about Telegram on SmartBotsLandNews Telegram channel. Join it now.
You should know coupon codes will apply in 3 months, 6 months and 12 months versions.
Discount codes will be announced on SmartBotsLand Telegram channel according to the following plans:
📍Important Tip:
Dear Users, as you probably know, Smart Bots Land bot maker panel, has two gateways: PayPal and Coinpayments.
If you want to pay in dollars, you can use PayPal gateway and if you like to pay with crypto currencies, you can use Coinpayments getway.
But the important point is that, for some reason, Smart Bots Land can't discount the price for those who use the PayPal gateway, but in return it adds days according to plans will be selected.
For example, if you have 50% coupon code and you are buying 12 months of one of the versions, after applying the coupon code, 6 months will be added to your selected plan (12Months), and your panel will expire after 18 months.
So dear friends if you want to get Black Friday discount codes, please join the Smart Bots Land News Telegram channel now.
Enjoy your bot 🌹